Real Estate
Organize Construction Projects by Bid Management Software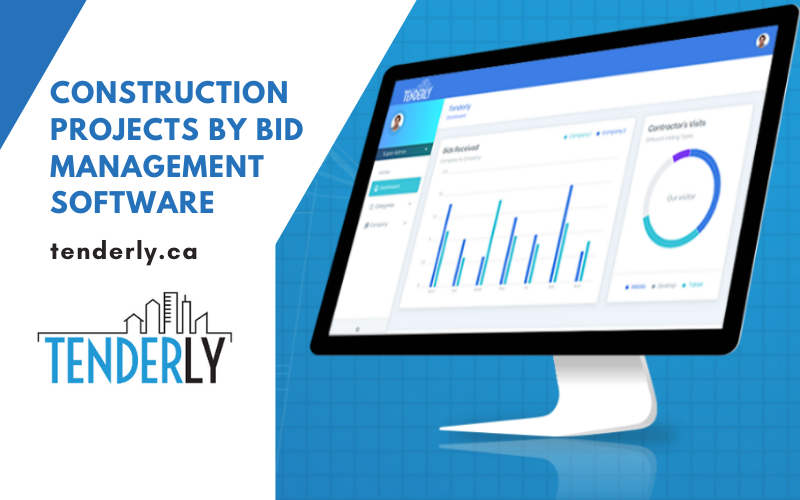 Construction work is a very long and time-consuming project. To complete a construction project successfully, you need tonnes of different materials. And managing all the bids you place can become quite daunting over time. Also, you will need to keep track of every construction project you are currently working on to make your process efficient. This is why most construction companies now use tender management software. Also called bid management software. With this cloud-based solution, you can significantly improve the way you execute each project. Moreover, it will help you sort your budget as well.
In this blog, we will discuss how you can organize construction projects using project management bidding software. You should also note that there are many solutions available. So, you have to be careful when you choose one for your company.
What is a Bid Management Software?
Bid management is the process of automating the handling of bids, proposals, and the organization of all construction projects. It saves you the time spent manually collecting and organizing details about the project. Furthermore, it greatly reduces the labor power needed, thus saving you the cost. Also, many construction companies that use automation software saw an increase in their revenue within months of tooling.
Some tender management software even automates the process of creating and sending the project proposal over to the client. It does that by simply going through your past proposals and looking at the current market value of the project materials needed. Hence, it is a handy software that helps you in improving the performance record of your company.
How to organize construction projects?
You can follow the steps below to receive all the benefits that a project management bidding software has to offer.
1. Create a workflow:
The first step towards organizing all your construction projects is to standardize the workflow. You should define how each project moves along its lifecycle. It helps the software categorize each project based on its priority, budget, and other parameters. You can also make use of the various ready-to-use workflows available to further save your time. Most tendering software also has a drag-and-drop workflow builder to further make the process easier.
2. Create a timeline for each project:
By creating the timeline for each project, you can easily organize the construction projects. Once you input a deadline and the average time taken to complete a project, the software automatically arranges each project in the right order. Using this method, you can convey the project deadline and important dates to your team without organizing a meeting. Also, you can access the software on any device provided that you have an internet connection.
3. Assign a budget to every project:
Sometimes you might need to sort based on the budget of each project. For example, you need to find the project with the highest budget. When you create a proposal, it has everything from the budget to the materials used. Using the simple filters in the software, you can easily find which projects carry the majority of your budget. Once the client accepts the proposal, the bid becomes legally compliant, and hence, you do not need to worry about any conflicts.
4. Update the progress:
The automation software doesn't know that your project got completed unless you update the data. Hence, it is important that you regularly update the progress of each project under your list. By doing that, the software can easily differentiate between projects at various levels in their lifecycle. For instance, you can differentiate between completed projects and ongoing projects without having to open the file every time.
5. Communicate with your team:
With tender management software, you can allow your employees to take certain actions. Like moving a project file to another section, for instance. The software greatly enhances the visibility within your team. Moreover, the communication between team members increases, and thus errors in organizing the projects files are less likely to occur.
Now that we have discussed the ways in which we can organize the projects, let us move on to how you can select the best tender management software.
Features to look for when choosing a bid management software:
1. Cloud-based:
It can be tempting to settle with software that you can access only from the office. However, when you are away from your office, it can become a hurdle to maintaining the smooth flow of efficiency. With cloud-based tendering software, you can access project files from anywhere as long you have an internet connection.
2. Security:
Make sure that the tool you select has ways to encrypt all your construction project files, all proposals, and tender data. They all contain sensitive information about the bidder. Any data leaks will result in legal actions.
3. Team management tools:
The project management bidding software must have the ability to manage multiple teams and projects. It will help your managers organize and assign work accordingly. Team management tools should also include the ability to permit/restrict access to employees.
4. Project management tools:
With project management tools such as Gantt charts, you can provide a better understanding of the project to your employees. You can easily assign the resources spent on each project and calculate the budget required. Scheduling is another important project management tool you must be looking for.
Conclusion
Not all tender management software will suit your business. But, it is worth knowing that there are many versatile software solutions that you can customize according to your needs.
For more informative posts about everything from real estate, home improvement, business, and be sure to check out more blog posts at Cliqzo.com.