Business
Technology
Top Zendesk Competitors for Small & Medium Enterprises: Bridge CRM
Find the Best Zendesk Competitor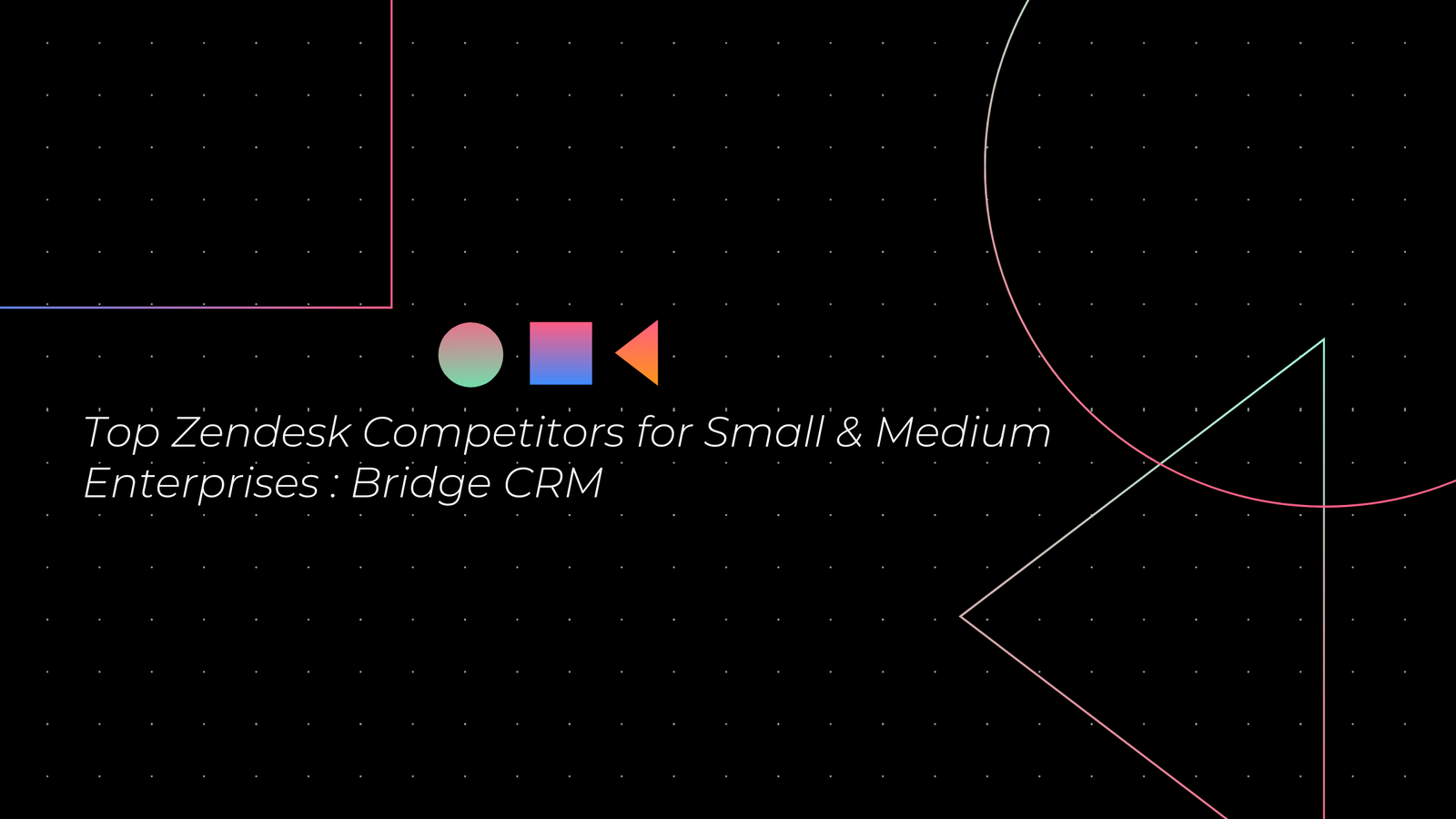 "Here we provide you Top Zendesk Competitors in the Market"
Did you know? 
75% of companies believe that they are customer-centric, but on the other hand, 30% of consumers agree.
Investing in Bridge CRM software enables your business team to serve their customers better. 
Not only this, it makes the business truly customer-centric. 
It's a fact, when you manage the customer enquiries smoothly, they are happier.
And we know, happier customers stay no matter what. 
Zendesk is one of the major CRM players in the market. Over 1 lakh companies are using their solutions with companies like Shopify, slack and more. 
What makes Zendesk a unique one to gain popularity? 
Zendesk is a vigorous and trusted product that any major enterprise level would hunt for. A software that meets most of it not if all their needs. 
They offer features like shared inbox, live chat, knowledge base and customer satisfaction tools. Also, detailed analytics and reports that businesses can use to improve their customer relationship. 
Hence, the software is a "One Stop Shop" for any business. This means one can easily find all the features at one place. 
Why are Businesses searching for Top Zendesk Competitors? 
Finding your ideal customer relationship software is like upgrading your living space. Something that suits and comforts your needs. 
Like you just shifted to Noida in July, you need an effective AC, you're not going to buy a central heating system right?
Similarly, if you are looking for businesses, Zendesk might not be the RIGHT FIT for you. 
There are many reasons why one might explore Top Zendesk Competitors. 
It has a learning curve. It's built for an enterprise which means it's complicated and is overloaded with interfaces. Hence, the software is complex enough that it comprises the whole industry that helps you get up and running. 
This doesn't need to be mentioned, it's quite obvious. The software is Pricey.
Young startups might find this software way out of their budget. 
Smaller businesses might not need all the features it offers. Therefore, you might end up paying for features that isn't required. 
The sheer size of the software and  the complexity says that the product size of Zendesk will take time to evolve. There are no regular feature additions or updates, and also, it has a slower bug resolution.
Competitor of Zendesk: Bridge CRM 
Bridge CRM is a Cloud based software that combines powerful CRM functionality with project management. Hence, it gives a platform for all the company employees to collaborate and be on the same page. Therefore, Bridge CRM becomes the Top Zendesk Competitors.
Now, many may not know about Cloud based software. It may seem to be a fancy term. But truly it isn't that complicated. It's a single source of truth for every kind of data your company needs to keep safe.
Be it IT, HR, Marketing, you name it – Bridge CRM can bring all these in just a single platform. 
Unlike Zendesk, Bridge CRM brings a lot of customization and automation to your table. One can easily edit workflow templates or create transparency to know how your employees actually work. One can also set all kinds of automation rules and set time for each employee for specific tasks. 
And yes, Bridge CRM comes with customer and contact management tools too. 
These work in the similar intuitive interface in which you'll do everything. So, you don't have to learn a new process for all kinds of projects. 
There's even a huge Bridge CRM app marketplace that brings more possibilities to what you can do with this app. You'll be able to sync your work in other tools like – Gmail, excel and more – to your Bridge boards and views. 
Bridge CRM is a perfect solution for SMEs, as it is super affordable. Hence, it comes in with customizable add ons made by Cinntra Infotech.
With Bridge CRM, one can get whatever they need for their business. There is no need to pay extra for what you don't need. 
Other Top Zendesk Competitors:
Help Scout

Zoho Desk

ServiceNow

Freshdesk

Gorgias

HubSpot Service Hub
What we Suggest- 
We believe CRM is the backbone of a Company, as it brings a lot of business and keeps their customer intact. 
Choosing the right CRM for your company should be the TOP most priority. Choose it wisely and never go out of your pocket. There are endless competitors in the market to select from.
Always take a DEMO or a trial version before investing in any software of your choice. 
A CRM software that fulfills your needs is the best one for you. Currently Bridge CRM is creating a buzz amongst small and medium businesses. As mentioned earlier it understands your needs and can be customized accordingly.
So what are you waiting for BOOK a DEMO today and enjoy the never ending business growth with Bridge CRM.