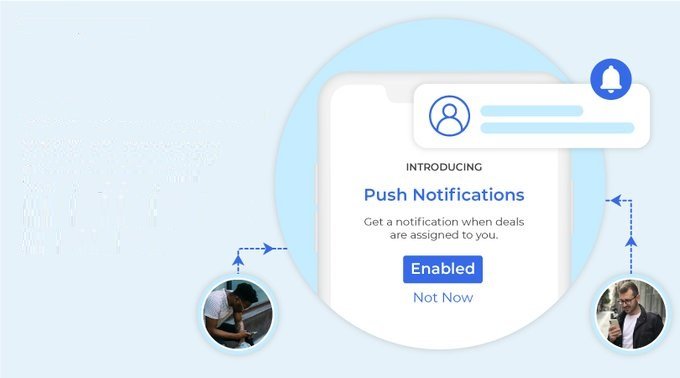 Most people today own smartphones and are available through them at any time of the day. This has opened up the opportunity for brands and businesses to conveniently reach them with their push notifications. However, you need to get your pushes right, otherwise, you may end up being considered intrusive and annoying.
A good push notification strategy can enhance engagement by up to 88% and retention by 26%. This blog discusses several mobile push notification tips and strategies to engage users.
What are mobile push notifications?
Mobile push notifications are short pop-up alerts that businesses send to their users on their mobile devices. Mobile users can receive them without having to open or use their app. It provides value and convenience by offering users alerts on the latest deals and discounts, new arrivals, product delivery status, flight check-in information, news updates, and more.
With mobile push notifications, brands and businesses can target the right users, improve customer care, re-engage dormant customers, engage new customers, increase sales, and more. 
What are the key benefits of using mobile push notification marketing?
By employing a good mobile push notifications strategy, brands and businesses will enjoy several benefits. Some of these are-
Get direct access to your audience.

Send urgent and timely notifications.

Get out the news about new product launches, feature updates, and content that users might otherwise miss noticing.

Provide an overall better user experience on apps.

Make your platform an engaging and valuable one.

Increase sales and revenue generation.

Learning what your audience likes and doesn't like.
10 Mobile Push Notification Strategies to Engage Users
Push notifications let you reach out and communicate with your users at any time. This is also the reason why push notification marketing has immense potential to fail. No wonder even several big firms have committed blunders that made them to the headlines. So, here are ten strategies to make sure you're doing it the right way.
1. Get the opt-in right:
Yes, you need to get the permission of the user to send him your push notifications. But you need to do it rightly. That is, rather than asking for them to opt-in just at the first meet, you should follow a procedure. First, build a strong relationship with the user. Get them to trust that you won't be misusing their permission and that you'd be sending only what they'd value. After this, you may send them a compelling opt-in request. 
2. Offer value:
You should not send push notifications for the sake of sending those. Refrain from sending irrelevant or useless messages. Your push message should offer value to your users. So, decide upon the purpose for which you're sending a particular notification. For instance, it may be to get them to read your new blog, or announce new product arrivals at your store. 
3. Write an effective copy:
Your message needs to be concise. For, there is a push notification character limit. Yet, it should be clear and enticing so that it propels the receivers to take action in your favor. They should clearly understand your offering and how they can avail of it. Being a little playful or humorous can capture their attention and make them remember you. Another sure-fire technique is to tap on their empathy by sending them something like a Mother's Day promo. 
4. Personalize:
Personalize your push notification message to suit the receiver. That is, it should be both convincing and relevant to him. For this, you need a good understanding of your customers. You need to know their demographics, location, online behavior, interests, etc., and segment your customers according to these. Such customer segmentation will help you send customized notifications to each segment. 
5. Get the timing right:
Sending your pushes at the wrong time can push all your efforts down the drain. So, study your customer's behaviors to identify the right time when they'll be available to open and read your messages. For example, restaurants targeting customers for lunch should send their discount coupons by around 9 a.m. This will help them maximize their push notification potential.  
6. Use rich media:
Push notifications with images can propel receivers to open and click-through them. So, incorporate relevant emojis, GIFs, images, videos, etc. into your push messages to make them captivating. However, take care that you don't add rich media unnecessarily. Ensure that it adds value each time. Else, a plain text message could be more impactful. 
7. Use the right CTA (Call to Action):
All of your push notifications should include a relevant CTA. CTAs tell users the action you want them to take. This can increase click-through rates. For instance, if your message is about a recently posted blog on your site, your CTA can be "Read the full blog"; if it is to get them to buy from your store, your CTA can be "Buy now"; and if you want them to download your e-book, your CTA can be "Download e-book". 
8. Use brand elements
:
Your brand elements refer to those intangibles that users associate with you. These include your logo, color combinations, font styles, messaging tone, and more. Incorporate your brand elements into your notification design. This will help reinforce your brand in your consumers' minds, and thereby, boost their loyalty and increase your revenue. 
9. A/B test push notifications:
A/B testing push notifications means showing two variations of a push message to two groups of your audience simultaneously to identify the best performer. It can help enhance the experience of your users and thereby can increase your conversion rates. 
10. Track performance:
Track how our push notification campaigns are performing. There is a variety of analytics software that helps you achieve this. Here are the metrics you need to check-
Users who viewed the notification

Number of Users who clicked through

Who meaningfully engaged with the content after clicking through

Customers who unsubscribed directly afterward, if any

Visitors who uninstalled the app directly afterward, if any
Getting to know these will help you optimize your future campaigns to increase conversions.
Wrapping up
You can employ push notification marketing for different purposes but you need to follow the best practices for creating and sending effective mobile push notifications. We've discussed ten mobile push notification strategies to engage users with your brand. Do make use of these while designing and launching your forthcoming campaigns.