Business
What is Zirconia Ceramic Used for?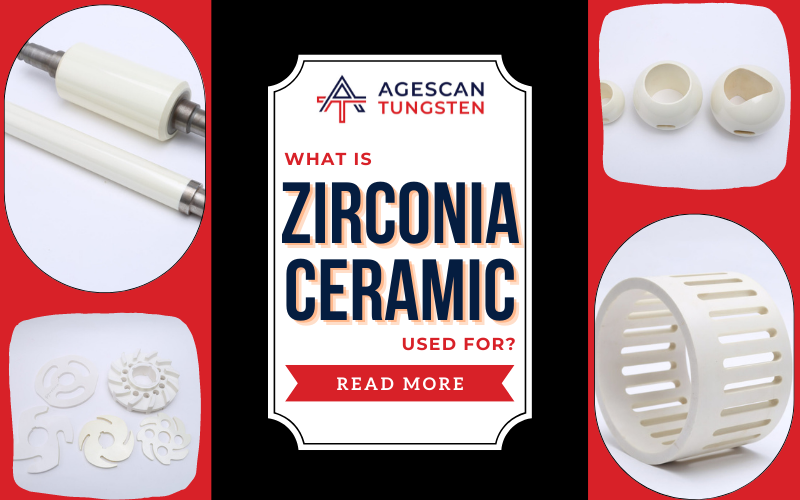 Let's delve right into it and understand what Zirconia is all about. Zirconia is a common white powder substance used to create dental frames for dental substructures like crowns and bridges. Zirconia is also used in household products like knives and scissors. Besides, it is one of the most researched ceramic materials.
Zirconia products are distinguished by great heat and corrosion resistance, chemical inertness, superior mechanical qualities, and stability at high temperatures. They are, therefore, perfect for usage in a variety of refractory goods, ceramic colors, and electrical applications.
In this article, we have covered several applications, properties, and production of Zirconia.
Zirconia material applications
Zirconia is used often and its applications are very handy for various purposes. Some of them are mentioned below.
Industrial: Friction materials, welding rods, and zirconium metals and alloys are among more uses. Superior strength and hardness, wear resistance, stability, scratch resistance, and super biocompatibility with the human body are all characteristics of this material.
Household: Scissors and knives are also created from Zirconia since it is so robust. Additionally, it is utilized to create microwave filters and to produce cosmetics, deodorants, and food packaging.
Construction: It is employed by the glass and ceramics industries as well as for the production of furnace linings, foundry bricks, abrasives, and heat-resistant crucibles.
Dental: It can be said that Zirconia is popular in the world of dentistry. It is often known as "ceramic steel" and is made of zirconium dioxide (ZrO2) and offers the best qualities for usage in dentistry, including better toughness, strength, and fatigue resistance, as well as superior wear characteristics and biocompatibility.
In large part due to its biocompatibility, high fracture toughness, and radiopacity, Zirconia has been used as a structural material for dental bridges, crowns, inserts, and implants. Modern Zirconia ceramics are also used in prosthetic devices, including hip joints and femoral ball heads, replacing alumina.
Additionally, it keeps the integrity of the tooth structure from being compromised, improving its appearance.
Manufacturing of Zirconia ceramic
A chemical formula based on a number of oxidized raw materials is used to create ceramic. The resultant powder is compressed before being dry-pressed into shape. The mold is subsequently high-temperature sintered to create the polycrystalline ceramic structure.
Zirconia is produced on a small scale, depending on the shape of the component. Injection molding, precise grinding, and laser cutting are three common processing techniques utilized as a result.
Large-scale Zirconia manufacturing is suited for injection molding, and laser cutting is a comparatively easy procedure. The maximum thickness that the laser can usually penetrate is 1 mm.
The electronics sector makes substantial use of this kind of Zirconia. A high level of dimensional accuracy may be attained with expensive tools.
Other uses of Zirconia
High-speed, precise ball bearings, relief valves, measuring tools, and replacement hips.
For use with three-dimensional measurement devices, reference spheres.
Three-dimensional measuring machine probes.
Precision ball valves (seats and balls), impellers, pump seals, oxygen sensors, high-density grinding media, and fuel cell membranes.
Thread guides cutting blades, gears, and metal forming.
Radio frequency heating susceptors, metrology components, bearings, bushes, and drive shafts.
Production of Zirconia
Zircon sand is reduced and fused to form fused Zirconia (zirconium oxide) (zirconium silicate). Zircon is combined with coke and heated in an electric arc furnace to its fusion point (about 2,800 °C), where it separates into zirconium oxide and fumed silica.
Zirconia is indeed the most common ceramic used worldwide. Its use in daily life is also very common.
Little porosity
High resistance to chemicals, heat, and mechanical forces
Extraordinary hardness
Elevated elastic modulus
Dependable electrical insulating qualities
Strong resistance to wear and friction
Conclusion
One of the strongest ceramic materials that STC provides is Zirconia. The distinct and particular qualities that each stabilized Zirconia offers match the requirements of the most demanding applications found in several sectors.
It is easily available and manufactured by reliable companies. You can easily look for Zirconia suppliers if you require purchasing the material in bulk.
Zirconia functions under operating conditions that plastics, metals, and other ceramic materials cannot survive because they offer extremely high strength, high toughness, wear/abrasion resistance, and corrosion resistance.
To summarize…
Zirconia's ability to sustain wear and tear makes it the major usable chemical substance. Layered Zirconia is the finest option as dental material for maximal beauty. Visit AgescanTungsten.com learn more about Zirconia & Zirconia products
If you want to read the latest trending news for Business, Technology, Lifestyle, Fashion, and another topics then visit the cliqzo.com website today.